Trina and I sit underneath Orange County's largest real Christmas tree, at Fashion Island Shopping Center. This is the prettiest outdoor shopping center I've ever seen!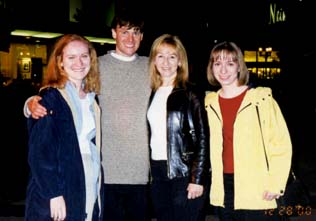 Trina, Alexandra, and I pose with Drew Tretick, a wonderful electric violinist who was playing in the courtyard of Fashion Island. He does a fabulous version of "Time to Say Goobye"--check out his website!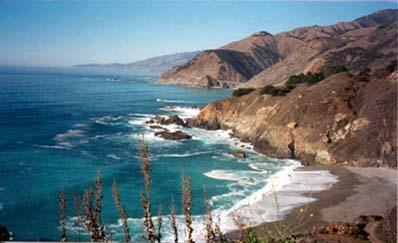 The view from a turnout along the Pacific Coast Highway between LA and Carmel. This is some of the most beautiful natural scenery I've ever seen. It looks exactly this good, too--I promise I didn't Photoshop this shot!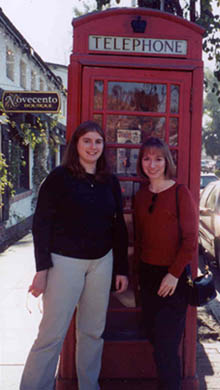 I met my college friend Megan in Laguna Beach for lunch, since she lives nearby. I loved the downtown area, and especially this authentic British telephone booth.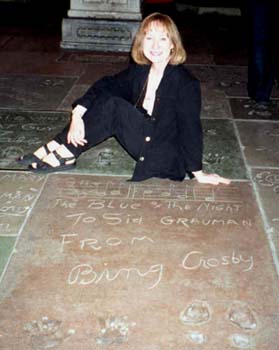 Mom poses by the prints of her favorite crooner, Bing Crosby, at Mann's Chinese Theater in Hollywood.

Trina, my aunt Alexandra, and I fulfill every Midwesterner's dream--running on a warm, sunny beach in January! This beach is at the end of the main street in downtown Carmel-by-the-Sea, and Pebble Beach golf course is in the background.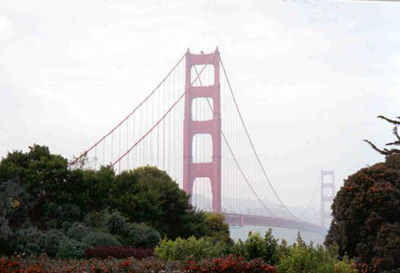 We took this picture of San Francisco's most famous landmark, the Golden Gate Bridge, right after crossing it on a foggy Sunday afternoon. This is how I always picture it--blanketed in a filmy haze.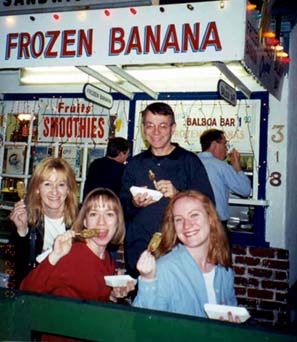 Alexandra, Dad, Trina, and I indulge in my favorite California specialty--a frozen banana, dipped in chocolate and covered with butter brickle. They're a tradition at Dad's, a small sweet shop on Balboa Island. This is probably my favorite photo from the entire trip. :)
Back to the Photo Gallery.