Family, Friends, and Little Me
A varied collection of favorite pictures.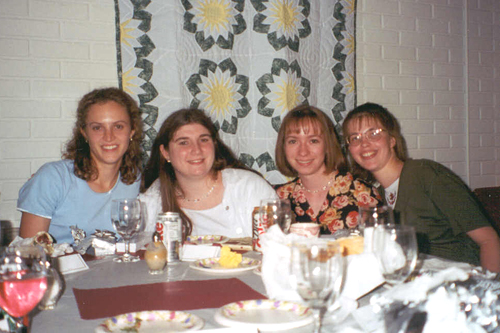 Gathered for the rehearsal dinner for my college roommate Lindsay's wedding in 2002, here we are--the fab four friends from Bradley U! (Lindsay, Megan, me, and Brenda)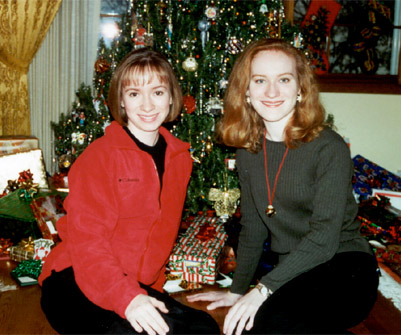 Trina and me during the holidays, 2002.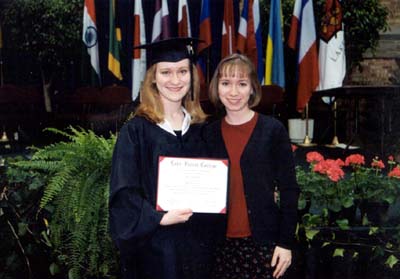 My sister graduated from Lake Forest College in May! Here we are after the ceremony. How dare she graduate only a year after I did, and stay three years younger! :)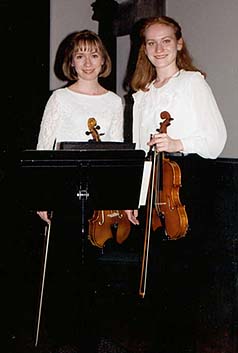 Trina and I had the first chance ever to solo together with an orchestra at Lake Forest College. We played the Bach Double Concerto for Two Violins, an old favorite of ours, and it was a thrilling experience! Enough to make me drop a hard-earned career and become a starving musician...well, almost.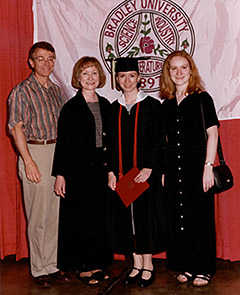 The fam at Bradley University's May graduation for the Class of 2001! :)

Granny (my Dad's mum) with her two grandkids in 2000 during one of her summer visits to Illinois. She's the only full-blooded German relative in my direct line! :)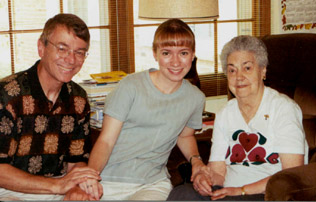 Me with Dad and my great aunt Josie, my closest living full-blooded Croatian relative (my paternal grandfather's sister). She makes great authentic Croatian desserts! :)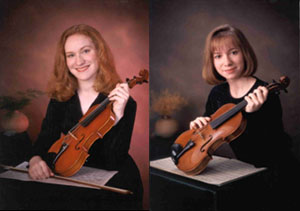 Trina and I both had our high school senior pictures taken with our most prized material possessions--our violins. This is a combo of both our senior pics, done in 1997 and 2000.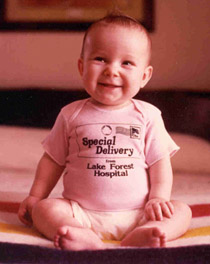 Yes, I was once a wee thing. This is me at six months old--easily amused, as always.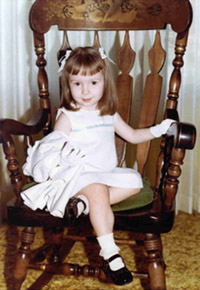 Me at 2 years, 9 months old--trust me, this is the most ladylike I've ever looked!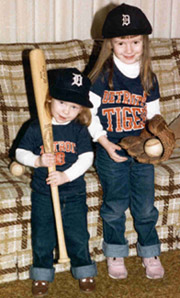 Trina and me at ages 2 and 5, respectively--looking decidedly less lady-like! We were groomed to be Detroit Tigers fans from an early age...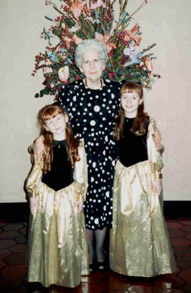 Granmo (my maternal grandmother) with Trina and me (ages 5 and 8, respectively) after seeing a production of My Fair Lady. Granmo and my aunt Alex, both excellent seamstresses, made the matching dresses we're wearing.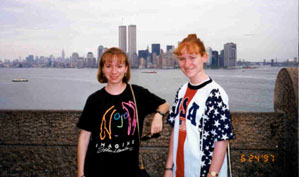 Trina and me with my beloved "second city," New York, in the background. Taken from the pedestal of the Statue of Liberty in 1997.

The new graduates after BU's 2001 commencement ceremonies.
Brenda, me, Lindsay, Carrie, and Cortney!

In 1997, I met Rupert Jee outside the Hello Deli in NYC. (He's featured frequently on the Late Show with David Letterman, whose theatre is just around the corner.) He's such a nice guy, and he agreed to pose with me! A fun little brush with fame...