A Parisian Whirlwind

...our eight-hour tour of Paris!

---
I had reservations about visiting Paris, based on the stereotypes of the way the locals treat American tourists, especially in the current political climate. However, the little bit of French that we learned beforehand, and the benefit of a friendly French guide during the first half of our day (this was a Golden Tours organized day trip from London), made the day a lovely experience, with no rude treatment or obnoxious comments received. :) I was unexpectedly enchanted by the beauty of Paris--while I only saw the main tourist area on foot--the Champs d'Elysses, the Eiffel Tower, and the area around the Louvre--I would be very happy to explore more of Paris in the future..it is a truly romantic city!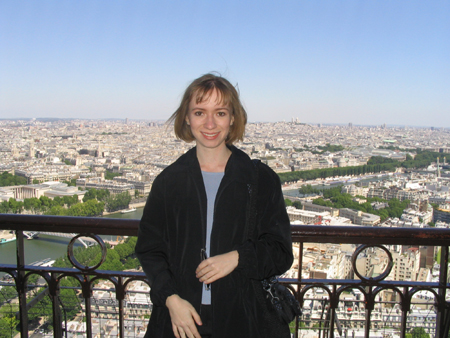 Here I am on the observation deck (2nd level) of the Eiffel Tower. Being used to great views as a fan of Chicago's skyscrapers, I didn't expect to be as impressed as I was to look out over Paris from here. Gorgeous in every direction!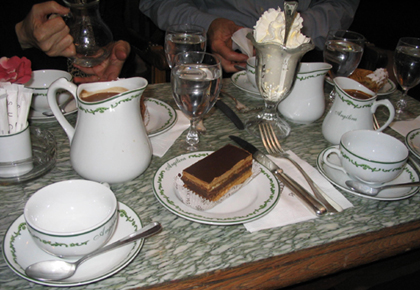 Angelina's (on the Rue de Rivoli) is a phenomenal place for chocolate-lovers...and if you know me, you know about my love affiar with chocolate. Their "Chocolat Africain" isn't just hot chocolate--it's thick liquified bliss, served with a whole parfait glass full of rich whipped cream. I'm not one to say anything's too rich--and this wasn't--but this is as close as it comes...arrive hungry! :)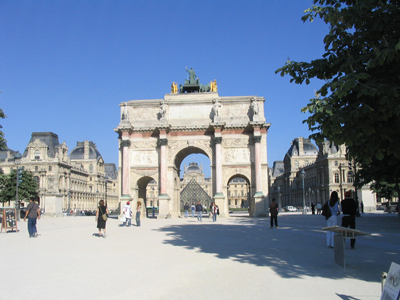 View of the Louvre, with Pei's glass pyramid entrance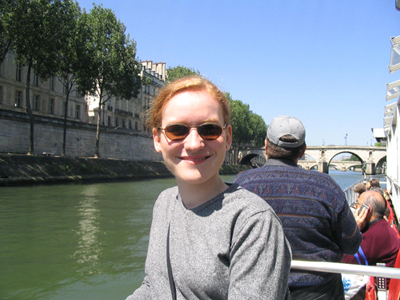 Cruising on a tour bout along the Seine is a great, if touristy, introduction to Paris. These boats dock right next to the Eiffel Tower.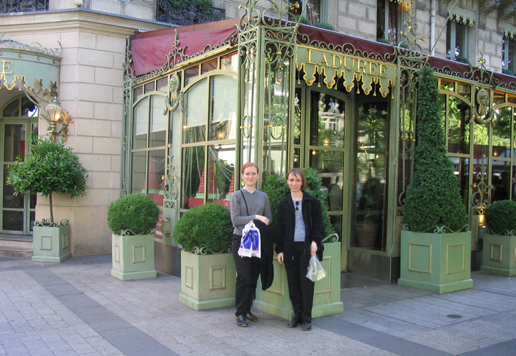 A great Parisian bakery/cafe on the Champs d'Elysses is Laduree--famed for its macarrons (they are excellent, but not what we consider macaroons here in America), and the building itself is pretty enough to eat!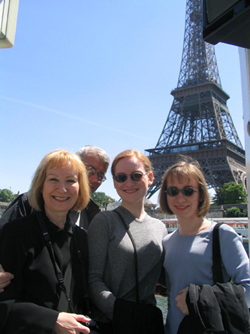 The obligatory picture of the tourists by the Eiffel Tower...pretty cool, though! :)